Published on 08/06/22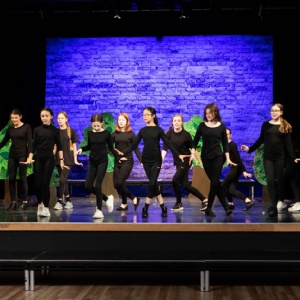 A cast of 58 very keen and enthusiastic students recently took part in our Year 7 production of 'Tales of Oscar Wilde'.
The script was adapted from three of Wilde's short stories by director Helene Barrell: 'The Selfish Giant', 'The Birthday of the Infanta' and 'The Happy Prince' all have fabulously sombre, thought-provoking or moral endings and plenty of scope for individual roles and for ensemble movement sequences. Original songs composed by alumna Anna Wills and sung live by members of the cast were used to link the stories together.
The production was very visual and incorporated a range of different disciplines. Puppets featured in all three of the tales, representing a flock of swallows flying South for the winter in 'The Happy Prince', songbirds in 'The Giant's Garden' and snakes being charmed out of a container in 'The Birthday of the Infanta'. Members of the cast choreographed some really lovely movement and ensemble routines for all three stories including a moving mirror sequence in which The Little Dwarf discovers he is in fact hideous and a scene in which The Little Swallow distributes gold leaf to the poor townsfolk. Spring and Winter were both personified and their entrances were highlighted by elegantly choreographed Snowflake and Spring Flower movement sequences.
As with all of our shows, many of the costumes and puppets were created by students in backstage clubs and enrichment classes. Year 9-10 backstage club members designed and made the costumes for Spring and Winter, whilst Year 12-13 theatre enrichment students made the Swallow outfits and a golden suit of armour for the statue of The Happy Prince. We were also delighted to be able to repurpose a Cyclops headpiece as part of the Selfish Giant's costume - this wonderful artefact was made many years ago for a production of 'The Odyssey' - he is far too good to keep hidden in a cupboard!
Many thanks must also go to the wonderful Drama Department for their support in making this production such a success.