Published on 16/06/22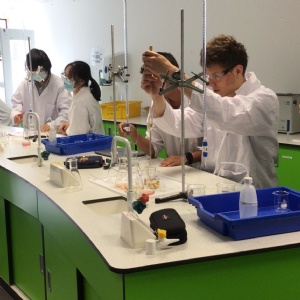 In May, the Chemistry department was pleased to hold a heat of the Royal Society of Chemistry Schools' Analyst competition.
The Schools' Analyst Competition enables students to demonstrate and expand on their existing chemistry knowledge, skills and aptitude for analytical science through practical analytical experiments based on relevant societal or industrial problems.
Ten teams of three Year 12 students took part committing to around six hours of lab work over a number of days to carry out a number of practical investigations on this year's theme of 'the best fish and chips' to find the perfect formula for fish and chips.
The experiments included acid-base titrations to investigate vinegar samples and thin layer chromatography and gravimetric analysis of baking powders. The students uploaded the results of their group to the RSC website before half term and we now wait to see if any students will go through to the next round.
Dr Mark Woodward, Head of Chemistry said: "This is an excellent opportunity for our strong cohort of A Level and IB chemists to experience an investigation that goes beyond the work that they usually carry out in class. Prior to COVID it was the case that we took a single group of three students to the University of Hertfordshire for the competition, it is great to be able to host a heat ourselves and open up the opportunity to a larger number of students. This is just the type of super-curricular experience that will help so many of them on their path towards a practical science subject at degree level."