Published on 23/06/22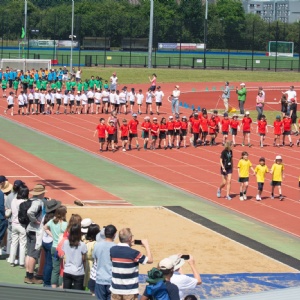 The sun shone throughout the day as we saw a return of the Junior School Fitzwilliam Sports Day with parental support for our pupils in Years 1 - 6.
Parents turned up en-masse to enjoy the sporting endeavours, cheering their children on during a medley of activities.
Year 1 and 2 started proceedings with a rotation of seven events ranging from the traditional egg and spoon race through to target throwing and obstacle races. Competing as a House, their competition was concluded with the House relay. Shortly afterwards Year 3 - 6 arrived on the track and prepared to sing their House chants in the hope of rousing the competitive spirit amongst their teammates.
The level of competition was enhanced this year, adding rounds of qualifying heats to track events before completing finals within many of the events on show. Hosting the event at Cambridge University track certainly helped to set the tone.
Our pupils did not fade as temperatures continued to creep. Through grit and determination, encouraged every step of the way by their House mates, all pupils came away with a great sense of achievement.
Cattley came out on top winning the Sports Day shield…well done to them!