Published on 18/10/22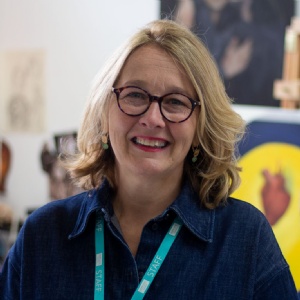 Mrs Rachel Bloomfield-Proud
Head of Visual Arts
I studied Textile Design at the University of Leeds and then worked as a Textile Designer for a company designing for M&S, Next and Mothercare. Despite presenting collections to buyers and being sent to fashion centres around the world at the age of 21, I decided I would actually have more creative freedom and career fulfilment as a teacher, so following a gap year in the USA, I completed my postgraduate teacher training in London and enjoyed my main placement at Chelsea School of Art. In the early stages of my teaching career I managed to continue my studies part time gaining an M.A. in Art and Design Education at the Institute of Education, University of London.
In my first teaching position I worked alongside artists in residence which encouraged me to develop my own work in the area of textile art using print and mixed media, exhibiting in the UK and Australia and being a member of exhibiting textile groups. My own artistic practice and my passion for teaching go hand in hand. I am inspired by my travels, visiting art galleries and have a love of cultural textiles.
In my teaching career I have been fortunate to work in a number of wonderful schools in the UK and Australia, where I have been able to teach a wide range of art and design specialisms and where the value of creativity has been highly regarded. Christ's Hospital in West Sussex, The Royal Masonic School in Hertfordshire, Pymble, Kambala and Queenwood in Sydney, Australia, where I lived for ten years. I was recently telling a colleague about how lucky I have been with my work commutes which include ferry rides across Sydney harbour, a five minute walk up a blossom lined avenue and of course cycling in Cambridge.
Having been part of the Senior Leadership team alongside running a department at my last school, it is refreshing and energising to focus and concentrate solely on leading such a creative Visual Arts department at Stephen Perse, where the staff balance and combine working in their specialist fields or studying, alongside being dedicated teachers and technicians, all working together to nurture the students' creativity. Stephen Perse students are individuals, full of energy, interest and intellect and I am loving that. I am excited to instil my passion for textiles and fashion and next year sees an endorsed textiles GCSE being introduced.
My start at Stephen Perse was rather surreal. It began with remote interviews and starting the role in January 2021 staring at a screen in lockdown, never actually meeting any staff or students. Students in what was 9A had to get used to a teacher they had never met and were so patient with me, so thank you 10A! That actually seems ages ago now, as I feel so settled in my new role and enjoying the creative vibe of the wonderful Visual Arts Centre (VAC).
Mrs Emma Wilshaw
Teacher of Visual Arts
I suppose creativity ran in my family as my father was a blacksmith, crafting objects such as an eight foot shaman sculpture from iron - my mother made clothes. I did Art Foundation at West Suffolk College in Ipswich and studied a degree in Combined and Media Arts (BA Hons) at Sheffield Hallam University. There I worked with sculpture, photography and film processes, and it included a short work placement at an Arts Farm which taught art to school children. I knew then that I wanted to teach but I was young and not quite ready.
After a photographer post with Camp America in New York State my first job was with Apex Television, a small producer of corporate videos in Cambridge. Here, I started as a helper, moving through various roles; sound recordist, video editor, camera operator and director. After six years the work dried up so I nervously moved on to do a teacher training PGCE in Brighton for Art. I held my first teaching post at Tunbridge Grammar School for Girls and in 2003 I started work at The Perse School for Girls and loved it! The atmosphere was great and teaching art is a privilege because art is personal for each maker, allowing for a strong understanding of the unique personality of each student. I have led trips abroad, taken part in creative projects with international schools and been to countless art galleries to enjoy exhibitions with students over the years - I feel very blessed!
Jo Whitmore
Teacher of Visual Arts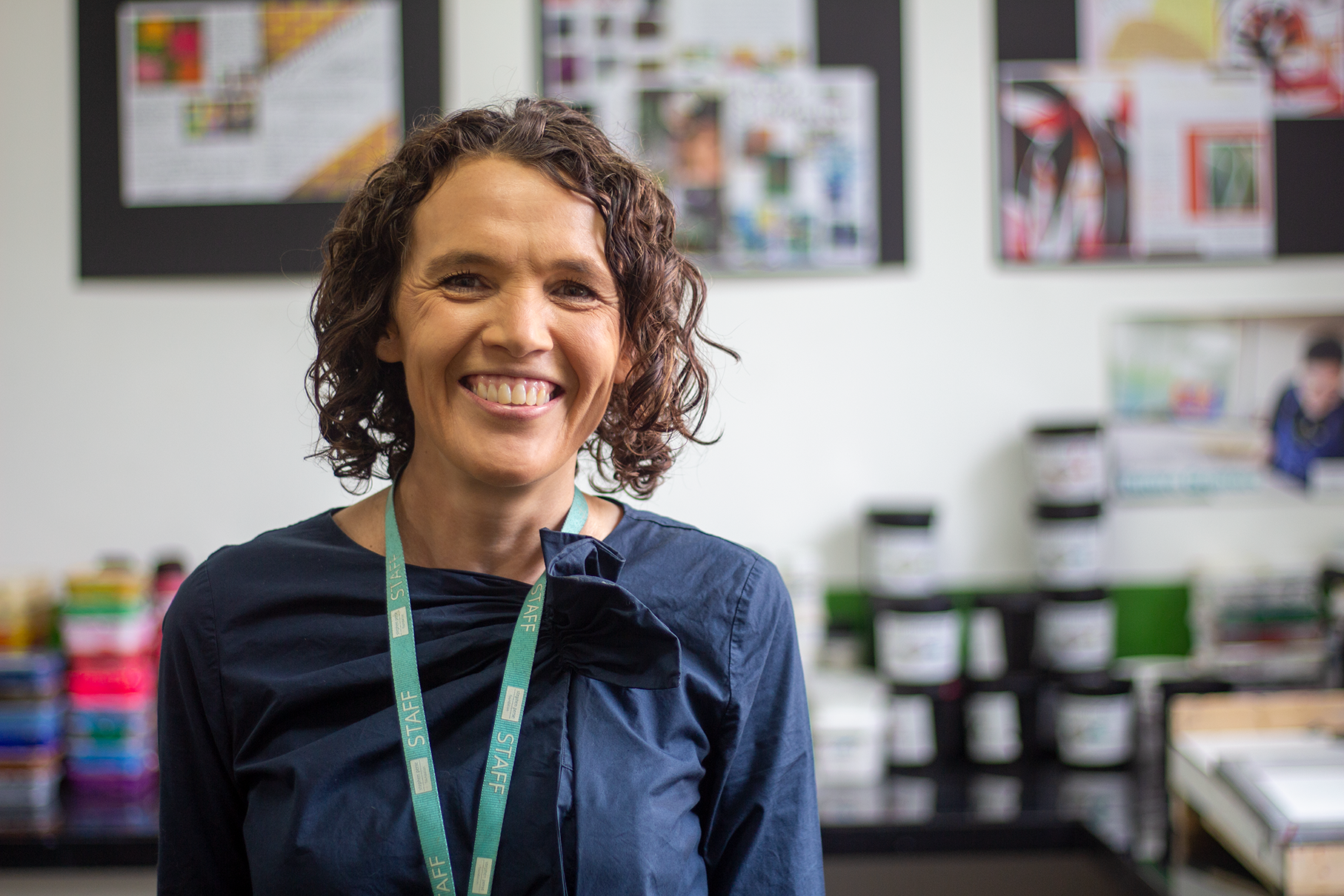 After completing an Art Foundation course at The Surrey Institute of Art and Design, I studied a BA (Hons) in Graphic Arts at what is now Anglia Ruskin University, Cambridge, achieving a First Class Honours Degree. Following on from this, I completed a full time one year Postgraduate MA in Printmaking at Camberwell College of Arts, London. I then spent most of my late twenties working as an interior Design Consultant in Cambridge before taking time out to travel in Australia. After completing a PGCE at Homerton College, Cambridge University, I began my teaching career at Saffron Walden County High School which gave me an excellent grounding within education and teaching and learning, really igniting my passion for teaching at both secondary level and sixth form.
After taking a career break to start a family, I began my relationship with The Stephen Perse Foundation by becoming Artist In Residence which gave me the ideal opportunity to develop my own practice alongside teaching printmaking techniques to sixth form students. I subsequently began teaching here in 2017, continuing to evolve as a printmaking artist in conjunction with teaching. There's never a day goes by where I don't feel so extremely lucky and privileged to be able to combine my two passions. I absolutely love all things print related so having the opportunity to teach everything from year seven basic polyblock printing to the more sophisticated reduction printmaking techniques with lino and silk screen further up the school is so exciting. I love being inspired by the energy and ideas created by young people and feel so privileged to be part of such a wonderful department here at the Stephen Perse Foundation.
Jane Short
Visual Art Teacher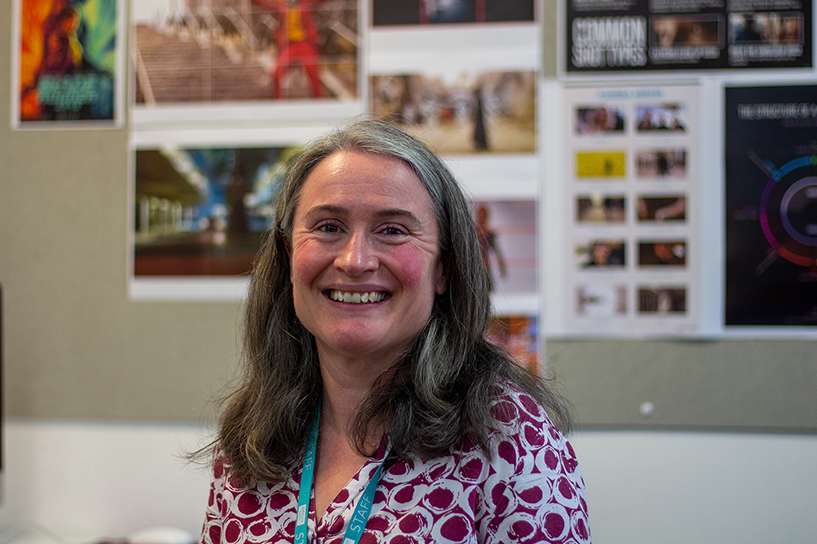 In 1997 I took part in the Camp America programme. It was an experience that changed my life and encouraged me to direct my career towards my enjoyment of teaching, and love of art. I have worked as a Camp Counsellor/Arts & Crafts Specialist as well as Arts Director at three camps over eight summers in both Pennsylvania and Illinois. This experience also led to employment with the American Institute for Foreign Study as a Camp America Interviewer.
I completed my degree in Visual Arts at Bolton Institute for Higher Education, achieving a First Class Degree in 2003. Continuing with a Masters Degree in Fine Art at Central Saint Martins College of Art & Design - University of the Arts London, and a PGCE in Secondary Education at Anglia Polytechnic University. During my studies I worked in a range of media, including Painting, Photography, Film/Video, Ceramics and Graphic Communication.
I started my professional teaching career in 2007 working at Cambridge Centre for Sixth Form Studies as a Teacher of both GCSE and A level in Photography, Fine Art, Graphic Design and iMedia. I also have 10 years' experience of working as a Boarding House Manager, providing support to students who live away from home while at school. In 2018 I became part of the Stephen Perse Foundation and with it the opportunity to teach the younger students and watch as they develop their creative skills through the years.
I enjoy travelling. As the natural world is an inspiration for my own artwork I have visited many National Parks and areas of interest in the USA, Australia, New Zealand and Fiji.
Richard Swift
Visual Arts Teacher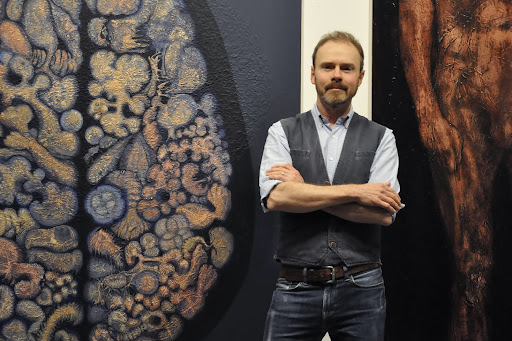 I always knew I wanted to go into art and history of art. I studied both these subjects at Reading and some years later at the Courtauld.
After leaving Reading I moved to the East End of London where I joined with thirty visual artists to convert a derelict veneer factory in London's Mile End into Chisenhale Art Place. Chisenhale contained a wide variety of artists: painters like myself; sculptors, performance and installation artists.
In 1995 I moved with my young family from Mile End to Cambridge. I had been teaching art and history of art part time at lots of different colleges across London and East Anglia, including Epsom School of Art & Design, Thurrock Technical College and Basildon College. With my move to Cambridge I found local work at CCSS and later, the Stephen Perse Foundation.
One of the things I most like about teaching art is nurturing individual creative talent: every student is different and has their particular voice, and everyone has something to express through their art. I also love introducing students to the work of other artists, and, before COVID, enjoyed organising multi-disciplinary cultural trips to the major art centres such as London, Rome and Istanbul. These trips are profoundly memorable and life enhancing, particularly for our young people.
Lindsay Davison
Visual Arts Support Manager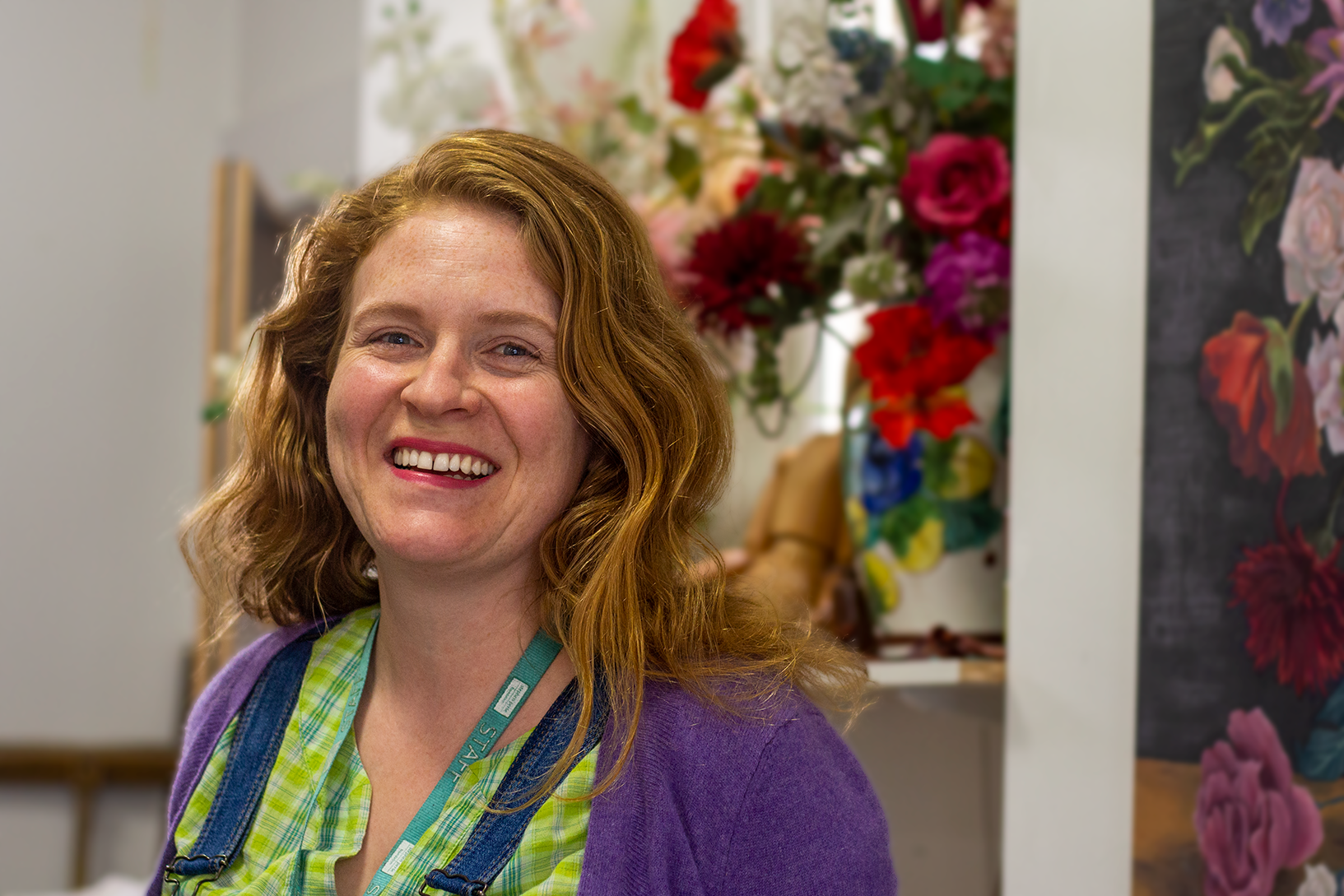 I studied Decorative Arts at Nottingham Trent University. I enjoyed the variety and experimental approach to working with different materials especially glass, textiles & printed surfaces. After graduating I worked in retail for a time, in fashion, millinery then as a florist. I learnt my trade as a florist on the job, for three years in a local flower shop. Then went to work for a London event florist 'Simply Flowers'. I worked as their Production Manager for three years, working as a recommended supplier at The Historic Royal Palaces, the V&A, The Wallace collection, The Tate Modern to name a few.
I loved the comradery of working in a small team and working creatively with the colour and structure of flowers. Projects that I was most proud of were creating aerial orchid displays for the re-opening of the Greenwich Observatory and the Christmas decorations at Kensington Palace. Events at the London Aquarium were always fun to install, as sharks swam past!
I came to work at Stephen Perse in 2009, as Visual Arts Support Manager. Since working here I have helped develop the glass fusing module we offer to the Sixth Form students. I have been involved with Oscar Murillo's 'Frequencies' project.
I have worked on creative outreach projects with the local nursing home, state schools, foreign exchanges & open days. I like the caring & nurturing atmosphere of the school. We have a strong teaching & support staff team.
My art practice has grown slowly & organically since having my son, I now work at the school part time. I've been an associate member of the Artist co-operative called 'Craft Co.' in Southwold for the last eight years. I've recently had an exhibition of my work there.
In the last few years Cambridge Contemporary Art has been selling my artworks and cards. I appreciate the balance between being able to come into school and support and be supported. Then being able to work on my own creative practice.
Tracy Dilorenzo
Art and DE Technician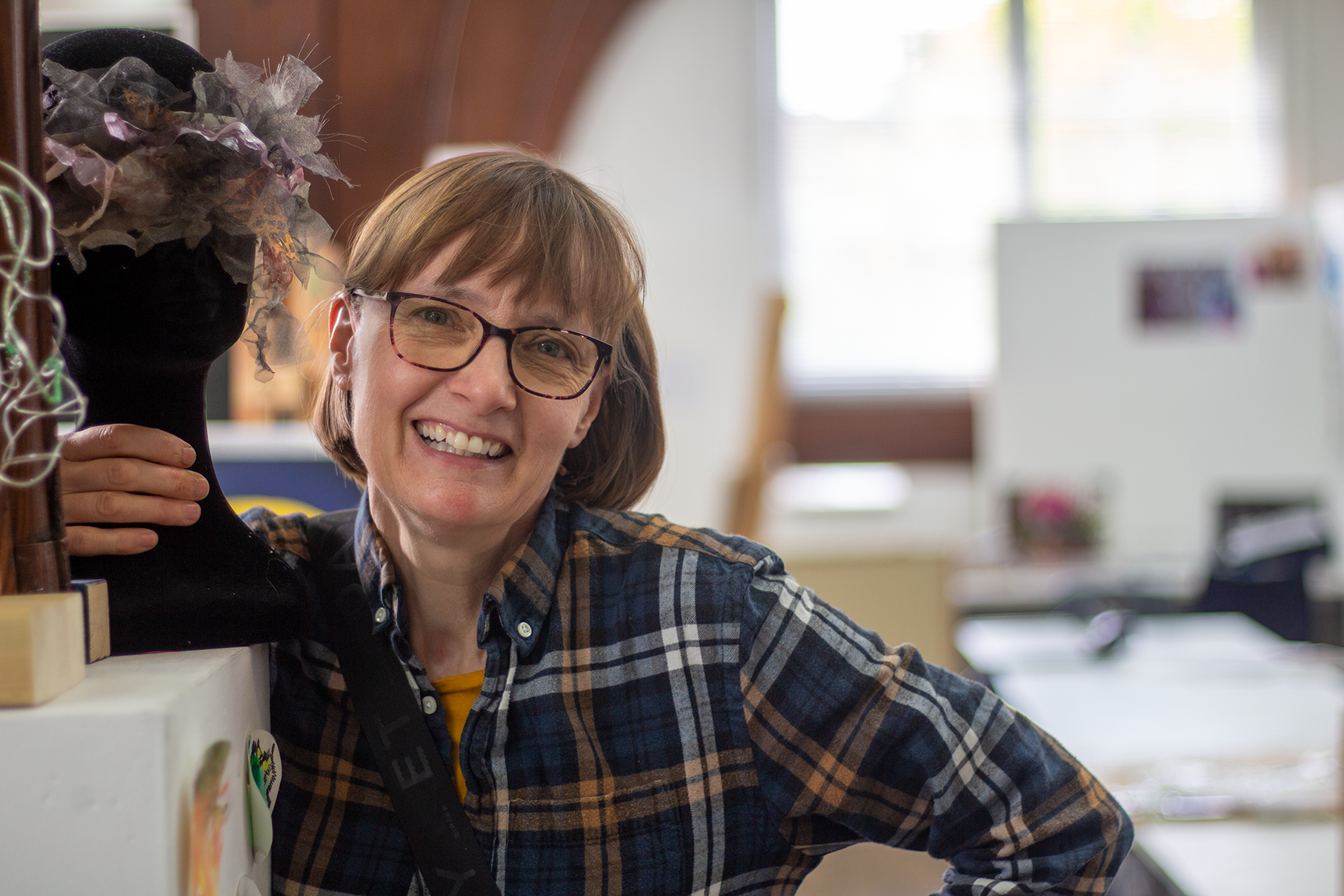 After completing my Art Foundation course at what is now Bournemouth University I decided I needed a change so joined the Police Force. I was a constable in Surrey Police for four years before I married an American Military man and we started a life of travel. I have lived in Wiesbaden in Germany, Colorado and Georgia in the USA and various places in England.
I found work whenever we moved, usually art based, teaching in private schools and adult education. I also sold my own work and won prizes at art shows. I set up my own businesses first in mural painting which was very successful until we moved, then a cleaning company which again was successful until we moved again.
I have now been in England for over ten years and have been an Art Technician at Huntingdon Regional College and Long Road Sixth Form College before starting at the Stephen Perse Foundation. I still practise my art but recently have been super busy with my new venture. I have started a degree in Mathematics with the OU. I am now in my third year of a part time course over six years. Maybe I'll consider teaching maths in the future but with a creative twist.
Miss Cooper
Visual Arts Teacher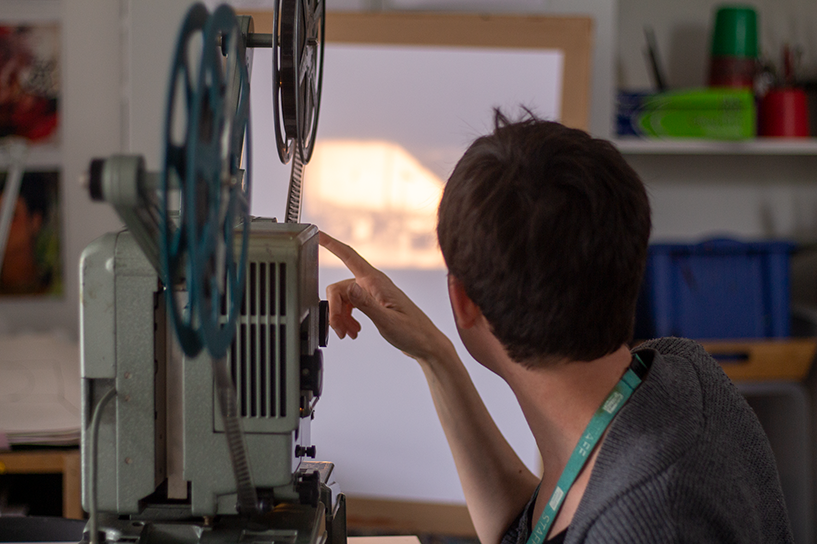 I am passionate about art. I believe strongly in visual communication. When I was at college I used to wonder why all the subjects except art used only written language as their medium. Why couldn't you study psychology and make a film instead of a dissertation?
I feel strongly that artistic creativity can be relevant and useful to any subject. I did my foundation at Wimbledon School of Art, my BA in Fine Art at Sheffield Hallam University where I became passionate about film.
My first job was as an associate producer and editor for a TV channel and after my MA at the Royal College of Art I became an Animation Director. I now teach part time and most of the week I run my own animation studio, working on films, documentaries, adverts and music videos.