Published on 25/10/22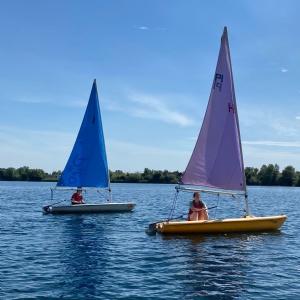 Outdoor Education has gone from strength to strength, with students being able to access indoor climbing, paddlesports, sailing, bushcraft and navigation activities within both club and enrichment times.
It is fundamental to our programme that access is given to a wide range of students within the Senior School and Sixth Form, allowing them to fully embrace the lifelong learning opportunities available through participation in Outdoor Education. This term has seen our first ever Year 7 Outdoor Adventure Day, which was focused on giving the new students to the school an opportunity to work with each other, make new friends and set the foundation for a strong year going forward.
Sailing
Eight of our students completed the RYA Youth Sailing Scheme Stage 1 award last term, as part of the Stephen Perse Outdoor Education sailing option. They learnt the basics of rigging, rope work, sailing techniques and sailing background.
Paddlesport
With our superb facilities and easy access to the River Cam, paddlesports is always a hit for our students. It is fantastic to see young people develop their skills and confidence on the water and begin to understand how to safely go paddling. We even had one student provide assistance to a member of the public, who needed some advice on getting back onto her paddleboard.