Published on 05/10/22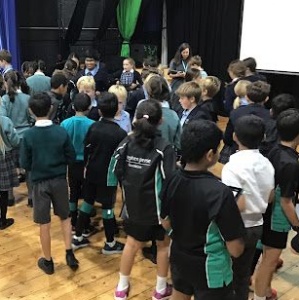 On Tuesday 4 October, Year 6 from Fitzwilliam Building travelled to Dame Bradbury's for a collaboration day.
Mr McCaughran welcomed us all and then we started our Globingo activity to reacquaint ourselves with friends.
We were then tantalised by tales of the open sea from Mr Gildea who raced across the globe on a yacht. Did you know that the cooker on a yacht is called a gimballed cooker?
"Mr Gildea showed a lot of resilience on his adventures. He persevered through the tough storm and never gave up." Adam and Clemmie.
Izzy and Long said, "He was using enquiry to ask and answer questions about the sea conditions as he was at the helm."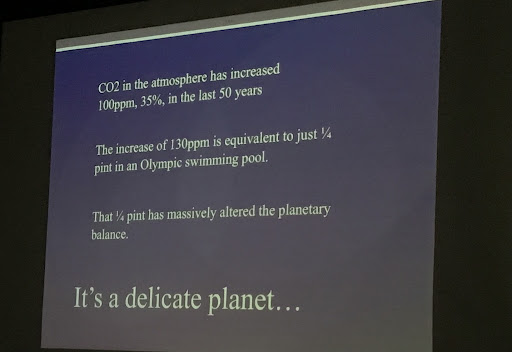 Mr Gildea talked to us about how the planet, the oceans in particular, are warming up. He showed us pictures from the Great Barrier Reef four years apart, we were shocked by the coral bleaching.
"I feel sad that the world is changing and people are not doing enough to change it!" Amelia.
He then took us up to the mountains for his next adventure. Again we couldn't believe the glacier shrinkage he showed from the pictures of his climbing in the Alps. When he told us about how extreme weather catastrophes have increased in the world we were taken aback.
We learnt that COP27 will be in Egypt in November. Then he asked us what we can do to help climate change?
Think about where our food comes from.
Try to eat what is in season.
Shop local.
Avoid plastic junk.
Why not do something to win a Blue Peter Green badge?
Ask your family what they are doing to help reduce climate change.
"I will make changes at home such as I will try to stop having baths and have showers instead and shop more locally." Georgina.
Thomas ponders, "I would like to make something that would enable us to reuse paper that has been drawn on and not having to go to a recycle centre."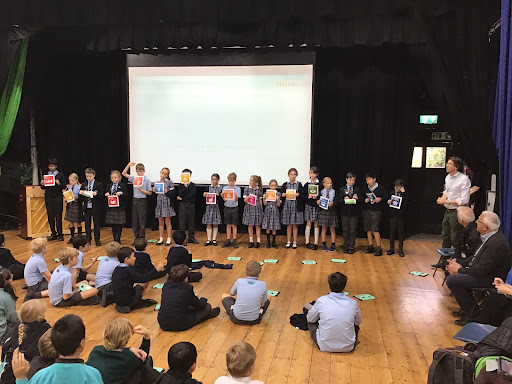 With Mr Woodey we learnt about the 17 UN Sustainable Development Goals and we thought about those that are important to each of us individually. We decided what they mean to us. Then we got creative and designed a superhero who could work towards solving some of the issues.
Ellie said, "My superpower would be to click my fingers which would filter all the plastic out of the ocean."
Before lunch we had a talk from Holroyd Howe about sustainability. Alison prompted us to think about food waste. We thought about what we can do with waste food - make compost, create biofuel and try not to waste food by taking only what you want.
Magnus asked, "Where does our food come from and are our burgers and chicken from free range farmers?" We heard how Holroyd Howe look to use sources from the UK and we challenged our caterers to try and obtain food from as local suppliers as possible.
It was a great day where we learnt much about the difficulties our planet faces. "I want to do more to change the planet's future," said Kitty. "I'm going to do one thing every day that makes me feel like I've helped our planet's future," added Haytham. With such great ambitions like these, we think the planet is in safe hands.
We are really looking forward to our next collaboration day in November.