Published on 12/12/22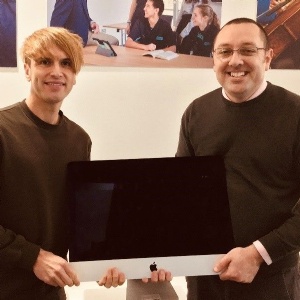 Stephen Perse has donated more than 20 state-of-the-art Apple iMacs to help tackle digital inequality in Cambridgeshire.
The 21 Apple iMacs were donated by Stephen Perse to Cambs Youth Panel as part of an ongoing partnership between the two organisations. The collaboration has been spearheaded by Andrew Brett, the Foundation's Director of IT and Systems Development.
The Cambs Youth Panel works with local councils as well as members of parliament to address issues affecting young people in Cambridge and the wider East Anglia region. One area of focus is digital inequality, which was bought to the forefront during the pandemic and continues to limit access to education for many young people in the region.
Richard Girvan principal of the Stephen Perse Foundation said: "A strong sense of community is at the heart of everything we stand for at the Stephen Perse Foundation. As we continue to build on our partnership with the Cambridge Youth Panel, I am particularly proud of my colleagues at the Stephen Perse Foundation for making this happen. Our Director of IT, Andrew Brett, was keen that we improved on our donations of iPads from last year and we hope our recent donation of iMacs will make a difference to young people and families in our Cambridge community, especially at this time of year; reminding us all of the power of partnerships within education."
Stephen Perse is building on its existing track record of sharing its expertise and resources with the community to play its role in tackling inequality in Cambridge.
Phil Priestley, who founded the Cambs Youth Panel in 2016 said: "The Cambs Youth Panel is delighted to have received a donation of 21 Apple iMac computers from the Stephen Perse Foundation. These computers are fantastic, and we will be distributing them to young people and families in need over the Christmas and New Year period. It's quite an amazing donation".
As part of their ongoing partnership Stephen Perse Foundation previously donated 50 iPads, cases and chargers to the Cambs Youth Panel during the height of the pandemic, to help support primary schools in Peterborough.