Published on 10/01/23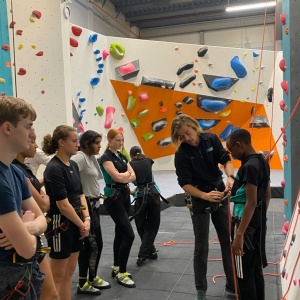 The Outdoor Education team took 15 Senior School students to Big Rock Climbing Centre in Milton Keynes. This was a first for our school and was clearly well received by the students.
The focus of the visit was to expand students' learning, and take their climbing experience from a bouldering wall to a roped environment. Allowing them to step out of their comfort zone and challenge themselves on new routes. All students progressed well and, by the end of the session, had the confidence to climb in 'the pit' which offered climbs of up to 11m!
Climbing offers a unique opportunity for students from all walks of life and year groups, to come together and share in a collective experience. On this trip it was fantastic to see students from Year 10/11 climbing with students from our Sixth Form, and vice versa.
Students received tuition from the school's highly experienced climbing instructors, Russell McAlinden (Head of Outdoor Education) and Matt Cowley (Outdoor Education Instructor).