Published on 19/01/23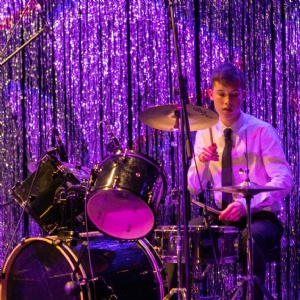 This year's Sixth Form Cabaret was coordinated by our fabulous Drama Assistant Rebecca Jones along with Sixth Form students Zoë, Claire, Joe and Katie.
The Senior School Hall was completely transformed into a glittering, red and gold cabaret venue with candles on tables and festoon lights and chandelier lamps illuminating the stage. The dress code was 'The Roaring Twenties' and we were absolutely delighted that so many audience members chose to dress up for the occasion!
The line up for this year's cabaret was wonderfully eclectic and hugely talented: the audience, seated at tables sipping mocktails, were treated to a wide variety of acts including dance routines, songs, classical guitar and live bands. The event raised more than £400.00 for the Cambridge Refugee Resettlement Campaign.