Published on 30/01/23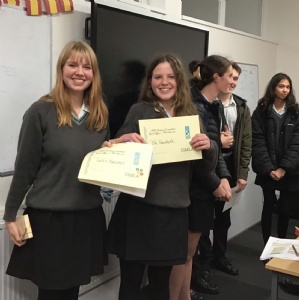 On a rainy evening in November, six Stephen Perse Year 11 students took part in a keenly fought debating competition at King's Ely
It was clear that our students were taking it seriously by their conscientious preparation for the event at lunchtimes and at after school clubs as well as on the train to Ely on the way to the competition.
After a warm welcome from our hosts at King's Ely, with a spread of pizzas and cookies, they got down to business debating such topics as 'in order to protect the environment, we have to limit foreign travel'; 'social media is negatively affecting young people's free time' or 'you have to go to university to get a good job' in German and Spanish.
It was inspiring and exhilarating to watch our Hispanists and Germanists battle it out with teams from Haileybury and King's Ely. We were so proud of all the students who definitely came out of their comfort zone and rose to the challenge. The judges praised our students for their excellent level and spontaneous use of language. Spanish students Ella and Caitlin came first in the Spanish debates and Dorrian and Batu were runners up in the German debate, with Annabel and Juliette coming in third. Huge congratulations to all participants for being such excellent ambassadors for our school.