Published on 17/03/23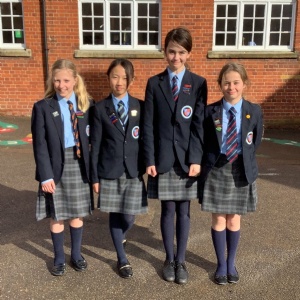 A review of the Ski Trip Ski Trip to Alpe d'Huez, France by Junior School Dame Bradbury's pupils Alice, Minuo, Erin and Eden.
On 11th February, children from Dame Bradbury's and Fitzwilliam Building met at Stansted Airport for the Junior School Ski Trip! After check in and security, the majority of us (and teachers) ordered Burger King which was divine! We boarded the plane which landed at Grenoble Airport. It was a very long journey to the resort on the coach as we were stuck in heavy traffic but this didn't dampen our spirits. There was a huge cheer when we finally arrived in Alpe d'Huez! At La Vallee Blanche, there was a nice meal waiting for us and donuts for dessert. We were all curious to explore the hotel and our rooms but first we had to have our skis fitted. After a long day, we unpacked our bags and got ready for bed. We were excited for the day ahead.
For breakfast, there was a selection of croissants, pan au chocolat, cereals, yoghurts and slices of bread. We all devoured our food and prepared for the first day on the slopes. The walk to the lift was utter torture in ski boots and carrying the skis was a nightmare, but it was worth it when we arrived at the ski school. We were split into five groups and met our instructors: Ludo, Pascal, Pascale, David and Manu. They were really kind and helped us to learn different skills such as snow ploughing, slaloming, parallel skiing and even going over jumps! The view of the mountains was incredible and it was so exhilarating travelling down the piste at high speeds.
Before the evening activities, we had some mouth-watering meals and delicious desserts. Some of our favourites included chocolate filled eclairs, brownies, and waffles with sauce and cream and apple tarts. There were also healthy options available but they weren't quite as popular. The hotel's tuck shop had many options to choose from and was always busy - the giant milkshakes, cookies and bags of sweets proving to be a hit!
After dinner, there was a special activity for each day. Our first activity was on Sunday, an adventurous town trail. Whilst walking around, we answered a set of questions about the resort and the area around it. Other activities included a movie night, swimming in an amazing outdoor pool, shopping, a disco and a talent show! One of the highlights was the ESF Half Term Ski Show, whereby the instructors performed a huge array of jumps and tricks. The action began to draw to a close with the famous torchlight descent by around 300 ESF Instructors weaving their way down the slope. The event was closed with a bang, a wonderful fireworks display from way up on the mountain.
On the final day of skiing, the conditions were perfect. There were clear blue skies and the weather was mild. We were being assessed by our instructor so we were all doing our best to impress and show what we had learnt after five days of skiing. We enjoyed our final run down the slopes and were presented with one of three badges: the Flocon (or Snowflake) star, the 1st Star Level or the 2nd Star Level.
After an eventful week, we got ready for the journey back home. Unfortunately, once we got to the airport, there was a 'surprise' waiting for us. Our flight had been delayed for three and a half hours! Hour after hour, we somehow made it through. We got lovely food out of it though with a free croque monsieur and drink of our choice. Eventually, we boarded the plane and we were so happy to get home, see our families and tell them all about our amazing adventure!
Find out more about our Junior School Dame Bradbury's – Book a Tour