Published on 14/04/23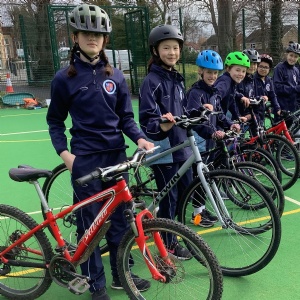 We are thrilled to announce that the Year 6 students at Junior School Dame Bradbury's have successfully completed the Level 2 Bikeability course!
The Bikeability course is a cycling proficiency scheme designed to give children the skills and confidence to ride their bikes safely on the road. The course covers a range of topics, including basic bike maintenance, understanding road signs and markings, and how to cycle safely in different road conditions.
Over the course of five days, four groups of Year 6 students worked with qualified instructors from Cycling4U Cycle Training to learn these skills and put them into practice. They started with playground-based activities to learn the theory behind safe cycling, before moving on to the roads.
The students were split into groups and taken on a guided ride around the local area, where they were able to apply their new knowledge and skills in a real-world context. They were taught how to navigate different road features, such as roundabouts and traffic lights, and how to communicate with other road users.
All of the students worked incredibly hard and showed great enthusiasm throughout the course. We are proud to say that they all passed with flying colours and are now better equipped to stay safe when cycling on the roads.
We would like to thank the Cycling4U Cycle Training instructors for their excellent teaching and support throughout the course. Also, a huge thank you to our supportive families who arranged for bikes to be brought to school for the event. Finally, we would also like to congratulate the Year 6 students on their achievement and encourage them to continue using their new skills to cycle safely and confidently in the future. Well done!
Find out more about our Junior School Dame Bradbury's – Book a Tour