Published on 18/04/23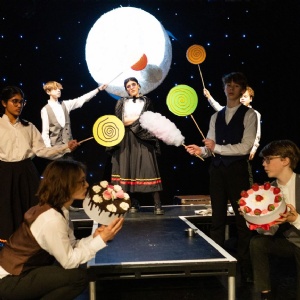 Six deliciously dark stories from the Brothers Grimm were expertly performed by our Year 9 cast who incorporated a mix of storytelling techniques, puppetry and ensemble work to create a visual feast of imagery.
From the familiar tales of Little Red Riding Hood, Rapunzel and Hansel and Gretel to the more obscure tales of Faithful Johannson, The Three Snake Leaves and The Juniper Tree, the audience were taken on a magical journey through forbidden forests, across far distant oceans and over exotic lands where we encountered fairytale princes and princesses, witches and devils, heroes and villains, and more than a little magic and mystery.
As with all of our shows, a large number of students of all ages were involved behind the scenes - designing and making props, assembling the set and costumes, assisting with all technical design aspects of the production and helping to run the show on the night.
Retold by Phillip Pullman and adapted for the stage by Philip Wilson. Directed by Ms Kim Albone.