Published on 23/05/23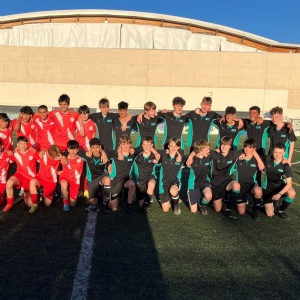 60 Stephen Perse students went on a once-in-a-lifetime football tour at Real Madrid football club in Spain.
Four teams of budding footballers from Years 8, 9 and 10 learned from some of the best Real Madrid coaching staff at the world-renowned Real Madrid Valdebebas training centre, each coming away with their own club training kit.
The Under 13, 14 and Under 15 boys' and girls' teams had the opportunity to play a fixture against local Spanish opposition, with the Under 14 and Under 15 teams playing brilliantly to win their games against Escuela Municipal de Futbol Gallur. The students also enjoyed attending a La Liga match between top Spanish teams Atlético Madrid and Real Betis.
Joe Tillen, former professional footballer for Chelsea FC and MK Dons and Head of Football at Stephen Perse, said: "The trip gave our students an unforgettable experience of training at Real Madrid's exceptional training centre, watching a top level Spanish match featuring several World Cup winners, and the chance to play fixtures against local Spanish opposition. All the students played superbly and the coaching staff at Real Madrid were extremely complimentary about their attitude and technical abilities."
A Year 10 student said: "The Madrid trip was a huge success. I really enjoyed the opportunity to train at the amazing Real Madrid facilities with their expert coaches. We are looking forward to implementing what we have learned in our football fixtures next year. It was also a great experience to watch a La Liga match; it was a tight game and I'm glad we got a goal to celebrate near the end. Playing a game against some Spanish opposition was really good fun and the fact that we won made it even better!"