Published on 27/07/23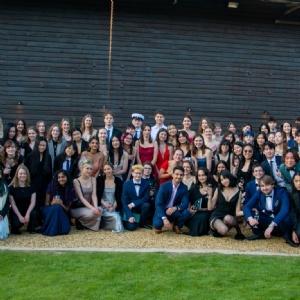 Jacq Paris, Head of Sixth Form, tells us about the 2023 Leavers' Prize Giving Dinner.
Friday 26 May was one of those sunny days with a chill breeze, but the sun held out long enough to shine on the gardens at The Manor Barn in Harlton as the Year 13, their parents and tutors arrived to celebrate their achievements and come together as a whole year group for almost the final time.
The barn was bedecked in fairy lights and the tables set with decorations put together by the student president team. The guests sparkled too as everyone was dressed in their finest evening wear.
Guests were welcomed on arrival with drinks, students collected their yearbooks and the celebrations began. Once the parents and staff were ushered to their seats, our in-house photographer, Aidan Whyte captured the moment with a year group photograph. The students were then welcomed into the barn with a standing ovation to take their seats.
After a three course dinner during which a photo slide show of the students including some baby photographs were screened, the prize giving element of the evening began.
Academic prizes were awarded by each department to students who demonstrated outstanding contribution or achievement. The Trinity Leaving exhibition is awarded each year by Trinity College Cambridge to the most outstanding academic student. We are delighted to nominate Katy W who will receive her prize directly from the college. In addition there were prizes for contribution to sport and the community; both the school community and beyond. General prizes were awarded for academic commitment, progress and to the student president, Danika, for her leadership of the sixth form president team.
In my address, I spoke of the skills and strength of character that the students have shown and how proud I am of them. Whilst it is traditional to acknowledge academic achievements at these events, it is more important to recognise all of the journeys that all of the students have taken over their two years of sixth form. The highs and the lows, the challenges, the uncertainty, the discovery, intellectual growth, the joys and laughter, a love of learning and the academic and personal skills needed to flourish in the future.
The event serves to mark, not the end of a journey but the start of a new adventure. Timed just as the examinations begin, it aims to be a reminder of the extent to which the students have matured and are ready to fledge the nest; that they are ready for university and life beyond.
The formal part of the evening finished with our student president, Danika, giving a very moving speech about her time in office and her appreciation of her time she has spent at Stephen Perse. There followed dancing, photos and much celebrating - the serious business of revision was quite rightly suspended for one night.
Year 13 Prizes 2023
Language and Communication
Student

Modern Languages

(Given By The Parents' Association)
Saho T
Burns Prize For French
Nat S
The Mary Fazackerley Prize For German
Bio S

Golder Prize For Spanish

(Endowed By Miss Golder)
Vicky M
The Helen Grant Memorial Prize For Classics
Naomi S
| Mathematical Understanding | Student |
| --- | --- |
| Pure Mathematics (Endowed By Miss Mallard) | Edwin M |
| Mathematics (Endowed By Miss Birks) | Sasha R |
| Prize For Single Mathematics (Anonymous Donation) | Jet J |
| Scientific Understanding | Student |
| --- | --- |
| Science (Biological) (Endowed By Mrs Bateson) | Mary C |
| Chemistry (Helen Valentine Memorial Prize) | Jet J |
| Hunter Prize For Physics | Sasha R |
| Computer Science | Arushi C |
| Design Technology | Sheena K |
| English | Student |
| --- | --- |
| Elspeth Giles Prize For English | Georgia BJ |
| English Literature (Endowed By Miss E Gwatkin) | Saho T |
| Humanities and Social Understanding | Student |
| --- | --- |
| Geography | Danika NA |
| History (John Wesley Wootton Prize) | Nat S |
| The Stewart Prize For Economics | Lilia B |
| Business | Jemima B |
| Politics | Alistair EG |
| Psychology | Brooke B |
| Sociology | Tily L |
| RS & Philosophy (Kate Harding Street Memorial Prize) | Wai Yuk W |
| Stephen Perse Prize For Theory Of Knowledge | Cecily H |
| Creative and Performing Arts | Student |
| --- | --- |
| Art (Endowed By Miss Scott) | Siqi L |
| Drama (Given By Anne Mayne) | Jay G |
| Music (Endowed By Miss Scott) | Mary C |
| Campbell Prize For Music Performance | Iris S |
| Chamber Music Prize (Given By Mrs Margaret Houghton) | Katy W |
| Physical Education and Well-being | Student |
| --- | --- |
| Excellence In Hockey (Cup) | Zoe R |
| Excellence In Netball (Cup) | Monika M |
| Team Of The Year (Cup) | 1st Netball Team |
| Achievement In Sport Girls - For Cross Country Running (Cup) | Cecily H |
| Achievement In Sport Boys - For Basketball (Cup) | Cyrus W |
| General Prizes | Student |
| --- | --- |
| Student President (Given By Jane Little) | Danika NA |
| Marion Street Prize For Academic Commitment | Toris A |
| Elizabeth Garratt Prize For Progress In The Sixth Form (Endowed By Mrs Davidson) | Psyche K |
| Stephen Perse International Baccalaureate Prize | Amogh KA |
| Stephen Perse Prize For Commitment To CAS | Amogh KA |
| Trinity Leaving Exhibition (Outstanding Academic In U6/Student Who Has A Place At Oxford Or Cambridge) | Katy W |
| The Darbyshire Prize (For Contribution To The Wider Community) | Katy W And Georgia BJ |
| Stephen Perse Prize For Service To The Foundation | Maisie C And Alistair EG |
| Stephen Perse Prize For Contribution To The Boarding Community | James T |