Published on 22/08/23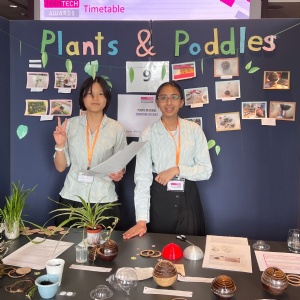 The Teen Tech Awards are for UK students from 11-16 (Years 7 to 11) and 16-19 (Years 12 to 13) working in teams of up to three to look at problems large and small to see if they can find a better way of doing things.
This year around 15 Stephen Perse students took part, developing a diverse range of projects. There was a project to investigate sustainable energy options at the school and a fidget pen designed for SEND students.
Molly R, Carys W and Millie K in Year 8 submitted a project on their idea for a new hand balm to reduce student stress. The aim of the project is to create a scented balm which can be sold from a vending machine in school. Julie P and Mouboni D are also interested in student stress. Their idea is to increase the number of plants in schools by making them portable for students to be able to take them to class.
Both projects have been selected for the finals and they will compete against other students by presenting their work to judges at the Institute for Engineering and Technology in Central London.