Published on 22/09/23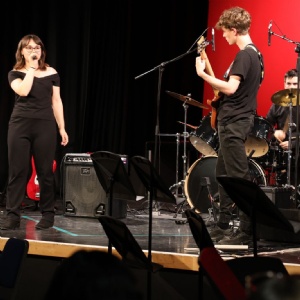 Matthew Rudd, Director of Music, tells us about 'Jazz on a Summer's Evening'.
The school musical year came to an upbeat and energetic close with 'Jazz on a Summer's Evening' on Friday 16 June.
Around 100 students took part, singing and playing an incredible 36 items in a wide range of popular styles. The first half featured a number of our larger groups: Big Band, Concert Strings, Brass Ensemble, Wind Ensemble, Years 7-9 Upper Voices Choir, The Singers, Boys' Choir and Changing Voices Choir and some rock bands, performing pieces including Eye of the Tiger, Rock Around the Clock, Over the Rainbow, and even some Black Sabbath!
We were very lucky with the weather this year and the second half proceeded as planned outside with refreshments, whilst a vast array of soloists from all years of the school serenaded us with items including Build me up Buttercup, One Direction's What makes you Beautiful and Lovely by Billie Eilish.
An increasing number of our students write and perform their own songs both within and beyond their class music lessons, and a number of these were also performed, with great confidence and to great acclaim from the audience, who filled all corners of the Activity Space.