Published on 16/11/16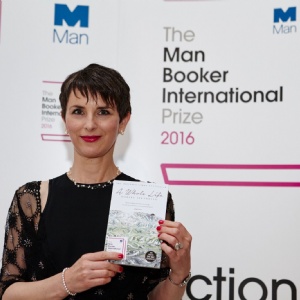 Charlotte Collins - the Man Booker International Prize Finalist (Translation)
Charlotte (left SPF in 1981), was shortlisted for the Man Booker International Prize 2016, as the translator of the novella A Whole Life by the Austrian author Robert Seethaler.
Charlotte went on to study English Literature at Christ's College, Cambridge, and then trained as an actor at the Poor School in London. She lived in Germany for several years, working as an actor, translator and editor, and was a radio journalist at Deutsche Welle in Bonn and at the BBC World Service.
Charlotte told us 'I started to focus specifically on literary translation in 2012 after going on a summer school at the British Centre for Literary Translation, which is part of the University of East Anglia (highly recommended!). A Whole Life was my first published translation. I've since translated a second Seethaler novel, The Tobacconist - out this month - and am co-translating a Georgian-German family saga called The Eighth Life.'
The Man Booker Prize was recently opened up to all literature written in English, and this year, as a result, the Man Booker International was also reconfigured. Previously awarded biannually to a non-Commonwealth author for a body of work, it is now awarded annually, for a single work in translation, and the £50,000 prize is divided equally between author and translator. The new format aims to increase interest among UK readers and publishers in the wealth of great literature available from other languages, as well as in the art and profession of translation. It recognises and raises the profile of translators as individuals and as a community. The prizegiving event was in May, at the V&A. The shortlisted authors and translators all received £1000.
The prize was won by Han Kang and Deborah Smith for The Vegetarian, translated from the Korean.
Photos: With Robert Seethaler (the author), at the Man Booker International Prizegiving event at the V&A. Photographer credit Janie Airey.