Published on 14/12/16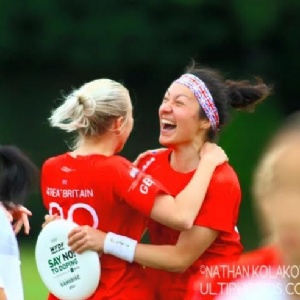 Kat Cheng (left SPF 2008) talks about her journey to representing GB in the Under 23 Ultimate Frisbee Championships
"Last summer, I represented Great Britain at the World Under 23 Ultimate Championships in London. To make the squad, we went through a trial process, followed by over 6 months of gruelling training weekends and personal exercise regimes in order for us to be ready to face numerous athletic opposition. I was one of 5 captains leading the team and it was an honour to be there, wearing the GB kit, representing my country in a sport I love. I picked up Ultimate at University (Sheffield Hallam where Kat studied Adult Nursing), playing alongside Netball as it has very similar attributes and my love for the sport grew. Since then, I have also played for the National and European Club Women's Champions (Iceni - based in London) who have continued to develop and challenge me to make me a better athlete, team player and person."
Kat has combined this whilst working full time as an Adult Nurse, and tells us about the chllenges she faced while doing that.
"The amount of time you spend, exercising, planning meals, getting to training it feels like a full time job in itself. It can consume your life but it's about finding the healthy balance between work, ultimate and life. I worked as a Nurse whilst being an international athlete which involved shift work, planning workouts and dedicating time to eat the right foods and recover. It wasn't easy juggling everything - I had to miss a few events with friends and family, but I knew this once in a lifetime opportunity was amazing and wanted to wholeheartedly invest."