Published on 06/03/17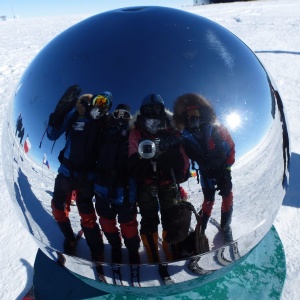 Alumna Arabella Slinger (left SPF 1989) visited Yr 11 as part of our 'Inspire & Guide' talk series, to talk about her journey from working in the City, to setting up her own business and becoming a polar explorer.
As part of our Yr 11 Inspire & Guide series, we were delighted to welcome back alumna Arabella Slinger.
Arabella left SPF and read Law at Cambridge and progressed into working in the City in the Finance Industry for many years, a plan she had always wanted to follow.
Proving that life is all about looking for challenges to fulfil you, and taking unexpected paths, Arabella shared with students her experiences of leaving working in a secure career path, setting up her own business that now competes with the 'Big Four' accountancy firms, whilst also being a Polar Explorer. Having walked to the North Pole in 2009 and the South Pole in 2016, Arabella is considering her next challenges already, and possibilities include the 7 summits and even Everest.
As a interesting coincidence, our Head of Senior School spotted a friend and former colleague was one of Arabella's fellow Antarctic adventurers too!