Published on 27/03/17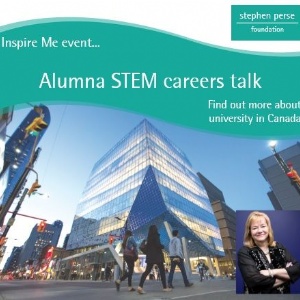 "There is no education lost to travel"
We were delighted to welcome alumna Imogen Coe (left SPF 1981) and her colleague Alisha Koumphol, to talk at our 6th form about studying for a degree abroad, and STEM careers in particular, during part of the Cambridge Science Festival ending this week.
Imogen was inspired by her own SPF Biology teacher, Mrs Patricia Munn, to study science further to her A Levels, and travelling around the globe, Imogen did just that, from Victoria, then California, before finally moving to Toronto.
Now Dean, Faculty of Science, at Ryerson University in Toronto, Imogen is a strong advocate of international study and learning, particularly with such an international changing scene politically. Students were reminded that 'Travel is fatal to prejudice, bigotry and narrow-mindedness' (Mark Twain).
Students were able to ask questions about the costs of studying abroad, and other issues relating to overseas study.