Published on 24/04/17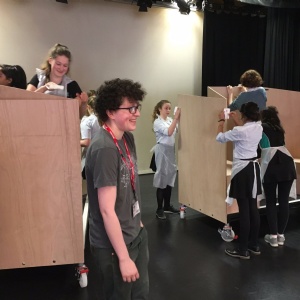 Alumna Gem Bowes (Left SPF 2009) went on to Royal Central School of Speech and Drama (CCSD) in London to do Set Construction, and today came back to run a workshop on set design with a group of our Yr9 set designers, who are working on the YR7 production of 'Emil and the Detectives' which will be performed in July.
Gem came in over the Easter holiday and made the initial set design from her CAD drawings, which she told the class were one of the most valuable aspects of her course - along with welding, which she encouraged everyone to take up! See a time-lapse of Gemma building the set:
Our Yr 9s got stuck in with sanding the sharp edges and began painting the set which can be moved around the stage and will transform from a train carriage arriving in Berlin to all aspects of set required for the play.
Gem is currently touring the country taking on freelance set construction projects with different theatre companies, and is hoping to develop her own workshop this year too.
You can read about the directions of other drama alumni here on our website.