Published on 25/03/19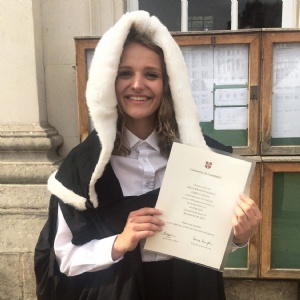 Alumna Chloe Merrell (left SPF 2014), has been awarded the highly regarded Joseph Hodges Choate Memorial fellowship at Harvard University for 2019-2020.
Chloe Merrell (left SPF 2014, then Jesus College, University of Cambridge; Theology, Philosophy and Religious Studies) has been awarded the highly regarded Joseph Hodges Choate Memorial fellowship at Harvard University for 2019-2020. This prestigious fellowship was established in 1919 by members of the Harvard Club of New York City, and is awarded to a student from the University of Cambridge, to allow them to study in Harvard's Graduate School of Arts and Sciences for 1 year as a non-degree Special Student. Chloe was recommended by the Vice Chancellor for her outstanding academic record, character and leadership potential.
Chloe is also currently a mentee on the 'Women in Journalism' mentoring scheme 2019, and is paired with Alison Kervin OBE, Sports Editor at the Mail on Sunday.
Chloe said "Along my journey I have often reflected on the moments when I realise SPF, unknowingly to me at the time, gave me the tools I've needed to help me get to where I am today.
Whether it was a teacher passionately telling us about the caricature style of Guy de Maupassant that I then got asked about in depth at my Cambridge admissions interview, or a passage of Dostoevsky we were told to read to supplement class discussion that I found myself returning to as the basis my dissertation and now, the foundation of my research at Harvard, it's always hard not to smile and realise how lucky you are. Those moments make you recognise the privilege of an SPF education and just how far your teachers help shape your thoughts and ideas.
My future after Harvard is still largely unknown to me. Whilst there I plan to continue researching my current thesis claim and to see if it had the legs for a PhD. Right now, I'm working hard at sports journalism, particularly writing about and promoting netball, a sport a fell in love with at SPF. This year I shall be writing official match reports for the Netball World Cup in Liverpool so you'll find me currently preparing for that. Perhaps one day, I'll be able to say I'm doing both!"
Chloe has recently started as PE intern at SPF. Sarah Lawson who is head of netball asked Chloe to join her club post-Cambridge, and then suggested joining as an intern. Chloe has been throwing herself at the netball as much as possible in preparation for her reporting at the Netball World Cup!