Art scholarships consist of free tuition at the Curwen Press Print Studio for a number of days during the first week of the Christmas holiday. Art scholarships are awarded based on the submission of a portfolio and an interview. Art scholarships are available to both external applicants and to pupils progressing from the Senior School.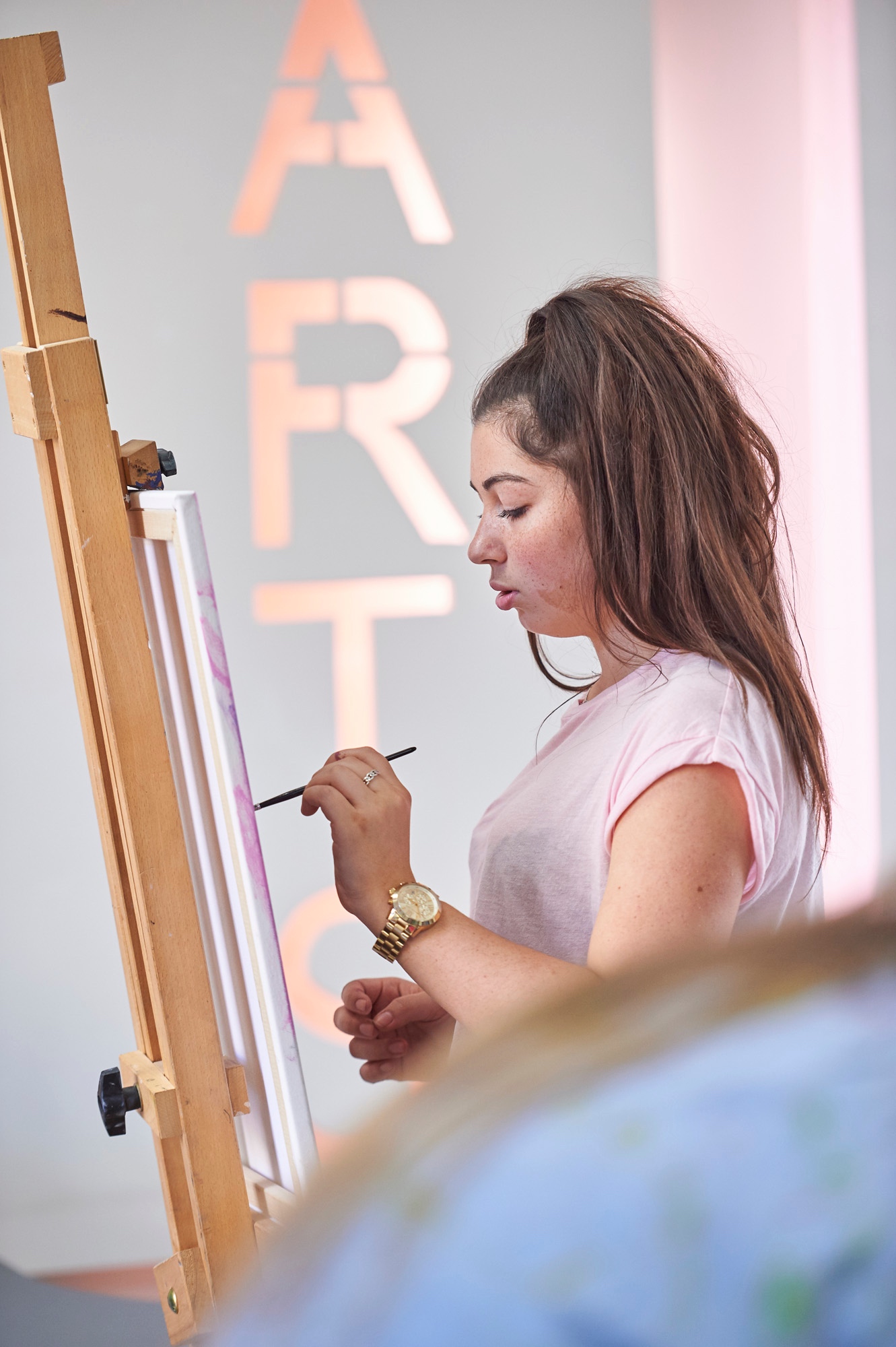 The role of art scholars
Art scholarship holders are expected to contribute to the artistic life of the College and the Visual Arts Centre. They should be willing to help with the organisation and running of art exhibitions and activities as appropriate.
Art scholars will be required to donate four completed prints, one of each to the College, the Senior School, the Visual Arts Centre and to the Curwen Press Archive. When the 6th Form life drawing sessions are running, scholars will be invited to join the sessions, with parental permission. There is a small fee for the model and teaching and these are run after school in twilight sessions. A programme of local exhibition visits will be devised each term and scholars will be invited to attend. These should be free but on occasion there may be a concessionary entrance fee.
The tuition will be with professional print makers on a one-to-one basis and will cover many forms of print-making skills, including etching and screen-printing. All expenses, tuition and materials will be paid for but successful applicants must organise and cover the cost of transport to The Curwen Press in Linton, Cambridgeshire. The work produced during this week will contribute to AS and International Baccalaureate Diploma Programme (IBDP) course work.
Application
To apply for the Curwen art scholarship, internal applicants should complete the relevant sections of the scholarship application form, taking into consideration the portfolio guidance provided and return to the admissions office. External applicants when registering via our online admissions portal will be given the opportunity to choose to apply for a scholarship - the scholarship form will then be made available in the checklist items. In order to qualify for this award, all applicants should currently be studying GCSE Art or Design (or the equivalent) and be taking Art at AS/IBDP level. Please note that Design is not available for study as a formal qualification at the college. However, design and engineering are part of the enrichment programme.
Interview
During an interview with the Head of Art, applicants will have the opportunity to discuss their portfolio of work and be expected to talk about how they would benefit from the Curwen art scholarship. Interviews will take place at the Visual Arts Centre. Portfolios can be delivered to the admissions office (Senior School site) in advance of the interview for storage purposes, but will not be reviewed in advance of the interview. Applicants who wish to deliver their portfolio in advance should attach a copy of their scholarship application form to their portfolio.
Terms
Applicants will be informed of the outcome of their application in early December. The Principal's decision is final. We do not disclose marks, grades or rankings. Successful applicants are required to accept or decline scholarships by early January. Having accepted a scholarship for the Stephen Perse 6th Form College, applicants are required to withdraw from the application/scholarship process of all other schools and colleges. External applicants must meet the academic requirements for entry to the Stephen Perse 6th Form College. Please note if a recipient ceases to study art at the College the Foundation reserves the right to forfeit the award.
Details of all key scholarship examination, audition and interview dates are available here.
---
Please note that auditions and interviews relating to applications for other scholarships and awards may take place on a different day from the academic scholarships and external applicant entrance tests; therefore external applicants must be available for both in order to be considered. External applicants must pass normal entrance assessments to be offered a place at the College.
When an external applicant is applying for an occasional vacancy after the formal period for application and testing has elapsed, an application for an art, drama, music or sport scholarship may only be considered if awards remain outstanding. Academic scholarships and Foundation awards are not available for applicants who do not sit the entrance examinations and attend interviews on the designated day.
Scholarships, which are not means tested, may be held in more than one discipline simultaneously and may be combined with financial assistance (in the form of a bursary).