Published on 23/03/18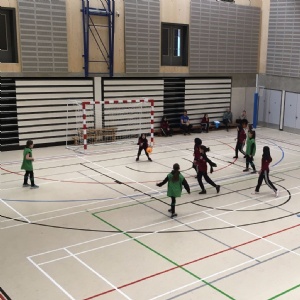 Our girls show off their football skills in our new sports hall's first five-a-side football tournament.
On Wednesday 21 March we hosted our first five-a-side football tournament for Y7 and Y8 girls.
We entered one Y8 team and two Y7 teams, and we invited The Iqra Academy from Peterborough who made up the fourth team. The Iqra Academy were a strong side, having played football competitively for more than a year through the Cambs Schools League. This would prove to be a good test for the Stephen Perse sides as to where we lie in relation to skills and abilities!
All teams played each other once in a round robin format, with the top two teams playing each other in the final ,and the 3rd and 4th teams also playing off for final positions.
All the seven-minute games were close contests, with only five goals being scored in the first six matches. The goalkeepers and defenders were particularly effective. Goals in the final play-off games were even harder to come by!
SPF 'A' drew 0-0 with SPF 'B' in the 3rd and 4th place play-off, with SPF 'A' winning the penalty shoot out. A staggering 14 penalties were taken before SPF 'A' won by the narrowest of margins!
The final saw an equally competitive game played between The Iqra Academy and SPF 'C'. The chances were few and far between for both teams, with goalie Clemmie making some important saves at key moments. The final eventually finished with a 0-0 draw. SPF 'C' came out on top in the penalty shoot out 3-1 and won the tournament as a result - nail-biting!
All matches were played in a great spirit with firm tackles and only one foul being awarded in the eight matches. The Iqra Academy thoroughly enjoyed their visit and are looking forward to coming back for more football in the future!
The teams were made up as follows:
SPF 'A' (Y8) - Zoë, Jess, Poppy, Nithya, Erin
SPF 'B' - Madeleine, Sadie, Aknur, Florence, Julia
SPF 'C' - Leila, Clemmie, Zoë, Caitlin and a guest from either 'A' or 'B' team