Published on 22/11/18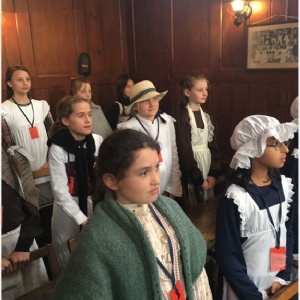 Year 6 pupils from the Stephen Perse Foundation enjoyed a fascinating Victorian day at Stibbington.
Monday 19th November saw Year 6 pupils, in a wonderful variety of Victorian costumes, set out for Stibbington and the Victorian school house that is to be found there. Upon arrival, the day began with playtime when everyone was given the opportunity to play with a variety of different Victorian toys. They quickly noticed that the equipment was very different to their normal playtime toys. From walking on stilts to playing with marbles the children were transported back in time to an era before plastic!
'The Victorian toys are made of wood and metal and nowadays our toys are made of plastic. I liked the metal hoops, they were really fun!' James

'I liked the stilts best because I'm good at them.' Justin
Looking at primary and secondary artefacts from the Victorian period really help to develop Year 6 pupils' understanding of the era. This was the next task of the day when they enjoyed holding the artefacts and reading the clues about them before uncovering what each one was. Did you know that workers would take boiled water in a flask or even weak beer to keep them refreshed during work?
'Looking at the artefacts was interesting because they show you how the Victorians lived, and did washing and cooking.' Sascha
'T'hey did not have a lot, nothing like the things we have today. No electric kettles or showers, they had to wash with a jug and bowl.' Noah

'I was amazed by how much metal they used for horse shoes, washboards and kettles.' Alexandra
A Victorian lesson came next. Can you imagine what the differences are between a Victorian school and education in 2018? Year 6 soon discovered that teachers didn't encourage their pupils and were very strict and severe. We agreed that some Victorian pupils would have felt frightened or even intimidated. How did children learn? By receiving instruction from their teacher, repeating and listening carefully. There was no independent study and certainly no talking or partner work. All knowledge came from the teacher - you had to listen and concentrate the whole time. You couldn't be an individual in a Victorian classroom.
'I didn't know that they held prayers before, during and after their lessons.' Analena

'Did you know that Victorians thought that children were being deliberately disruptive for writing with their left hand? Writing with my right hand was very tricky.' Vivek
A fascinating walk around the village followed. Many facts were discussed and debated. First stop was School House, home to the School Master, Monitoress and Georgina Dorman, the pupil teacher, who nearly failed her needlework exam which would have prevented her from becoming a teacher.
'My needlework exam was really hard. I thought I'd done a good job but I got told off for shoddy work.' Georgina Dorman (Isla)
Next was Stonewell Cottage where Year 6 honed their history detective skills by asking questions and considering primary and secondary sources again. The Smarts lived there and it was where John Smart caught and survived typhoid, unlike poor Prince Albert.
'Albert died yet I did not. That makes me a lucky boy.' John Smart (Loïc)
Year 6 focused on the 'then and now' as they were asked to consider differences between the cottage in front of them and a photograph of it in Victorian times. They spotted a thatched roof, wooden fence, no electricity power lines, burglar alarm or TV aerial, no gutters and fewer windows. The impressive Stibbington Hall was close by. This is where most children in the village would have gone to work as maids, grooms and gamekeepers.
'Working at Stibbington Hall as a maid was very tiring but luckily the owner of The Hall was kind.' Emma Wingrove (Willow)
At the Stibbington graveyard, Year 6 searched for the families of the children they were researching. They were then given the opportunity to show their respect by laying a sprig of rosemary, the symbol of remembrance, on the graves they found.
'It is surprising to see the actual gravestones of the Victorians we are studying.' Clemmi and Andrey

'The churchyard activity was interesting and we learnt a lot about the people who lived in Stibbington in the Victorian era.' Matthew and William
This was a fascinating day out for Year 6 and all of the pupils learnt so much about what life would have been like if they'd grown up in the Victorian era.
Check out the photos here.
---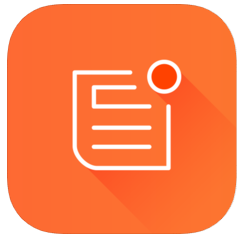 If you want to keep up to date with all the latest school news on your mobile, simply download the 'School News' app and search for the Stephen Perse Foundation.