Published on 13/10/16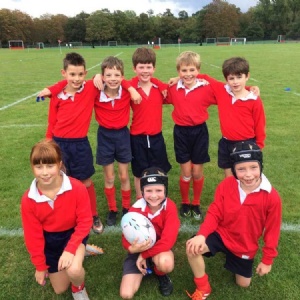 The U9 A team contested a closely fought match against St John's right up until the final whistle. After a slow start to the game, St John's opened up a two try advantage which ultimately proved too much for Dame B's to claw back. A much improved performance as the game progressed, ensured Dame B's matched the hosts in all aspects of the game and tries were scored by both teams.
MOM - Jake F for his direct running and excellent ball handling.
Final score St John's 8 tries - 6 tries Dame Bradbury's
In their very first contact rugby fixture, Dame B's produced an excellent performance turning around a two try deficit at half time into a tied game by full time.
Initially Dame B's thought that tackling was not important but this proved to be a mistake as St John's scored three tries without reply.
As well as improving their tackling and handling skills, Dame B's proved a match for the opposition and Dame B's outscored their opponents six tries to four. This improvement was due to some terrific tackling from Danny S, Luca W and especially Luca W.
MoM - Luca W for scoring two tries but also for his tremendous work rate in defence.
Final Score St John's 9 tries - 9 tries Dame Bradbury's