Published on 22/03/18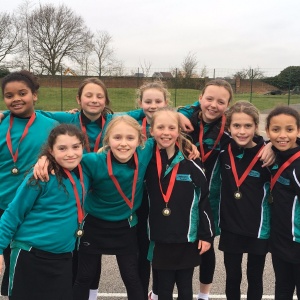 The Junior School's U10 netball team perform well at New Hall and build up their tournament experience.
The tournaments come thick and fast in Year 6 and so tournament experience in Year 5 is very valuable. The U10 girls travelled to New Hall, having not been beaten locally, on a quest to really test themselves.
The girls played some of their best netball of the term in the group rounds recording a draw with St Cedd's School (3-3) and wins against New Hall School B (8-1), Ursuline Prep School (9-0), King's Ely School (8-1), Alleyn Court Prep (5-0) and Chigwell School (9-0). This left the team top of the group with a very impressive goal difference.
After a short break the knockout stages began and the U10's lined up in the Cup Semi Final. The girls played well, but lost (6-10) to the tournament's eventual winners Widford Lodge. A lot was learned in this match and the girls regrouped and were thrilled to win the 3rd/4th play off against St Cedd's (7-4).
This left the team finishing 3rd overall out of 14 teams and a nice shiny medal always makes the home journey feel much shorter!
A big thank you to New Hall for hosting such a brilliant netball rally and well done to the U10 girls.