Dear Parents and Carers
It feels quite late in the term to be saying 'Welcome back', but this is my first newsletter of the term, so can I extend our hand of friendship and partnership once again? It was great to make (re)acquaintances at our 'Introduction to the Year' evenings, and I hope to catch up with other parents as the term progresses.
This is such a monumental term in our history that it would be easy to think that this was a brand new school and not one with over 135 years behind it. We are now co-ed in the Senior School and it has been wonderful to see the boys being embraced (mostly metaphorically!) by the students higher up the school. Alongside them, we are delighted with all our new students and I hope they have felt warmly welcomed to the school. Our new building edges closer to completion and continues to elicit incredulity at its scale and vision. I look forward to our early evening Open House events on the 13 and 18 October when you will be very welcome to have a look around.
It is in the context of all this change that I began the term with an assembly on who we are. This wasn't simply an excuse to play a clip from Les Miserables ("Who am I?... I'm 24601"), but was an opportunity to take stock of the things that transcend all the changes occurring in the school. So, who are we?
We are a school with a rich history, but with our eyes set firmly on the future, and, importantly, the future that is right for each individual here. When you read the websites of many schools, they will explain the characteristics of the 'ideal' student that they are trying to produce. These characteristics will often be laudable in themselves, but is it right for a school to be setting itself up to produce people who all have the same characteristics? Much more important, I think, that the school has a culture where people feel that they can forge their own personalities and identities… it is great to see the word 'diversity' on our Curriculum Wheel. The term 'inclusion' has been a focus for the staff over the beginning-of-term training days, and this is about making our education available for all to access. Part of this is ensuring that everyone feels comfortable in their own being, such that they can spend the lessons learning, rather than worrying. Adding it up for all students, we have over 25 million minutes of teaching a year, so this is a difficult challenge, but one that the staff have embraced.
Another thing that is very different here is our approach to exam results. I'm delighted that our Year 11s did so well last year, but it is interesting that the conversations within the school have focused on such things as the university destinations of our students rather than our percentage of A and A* grades.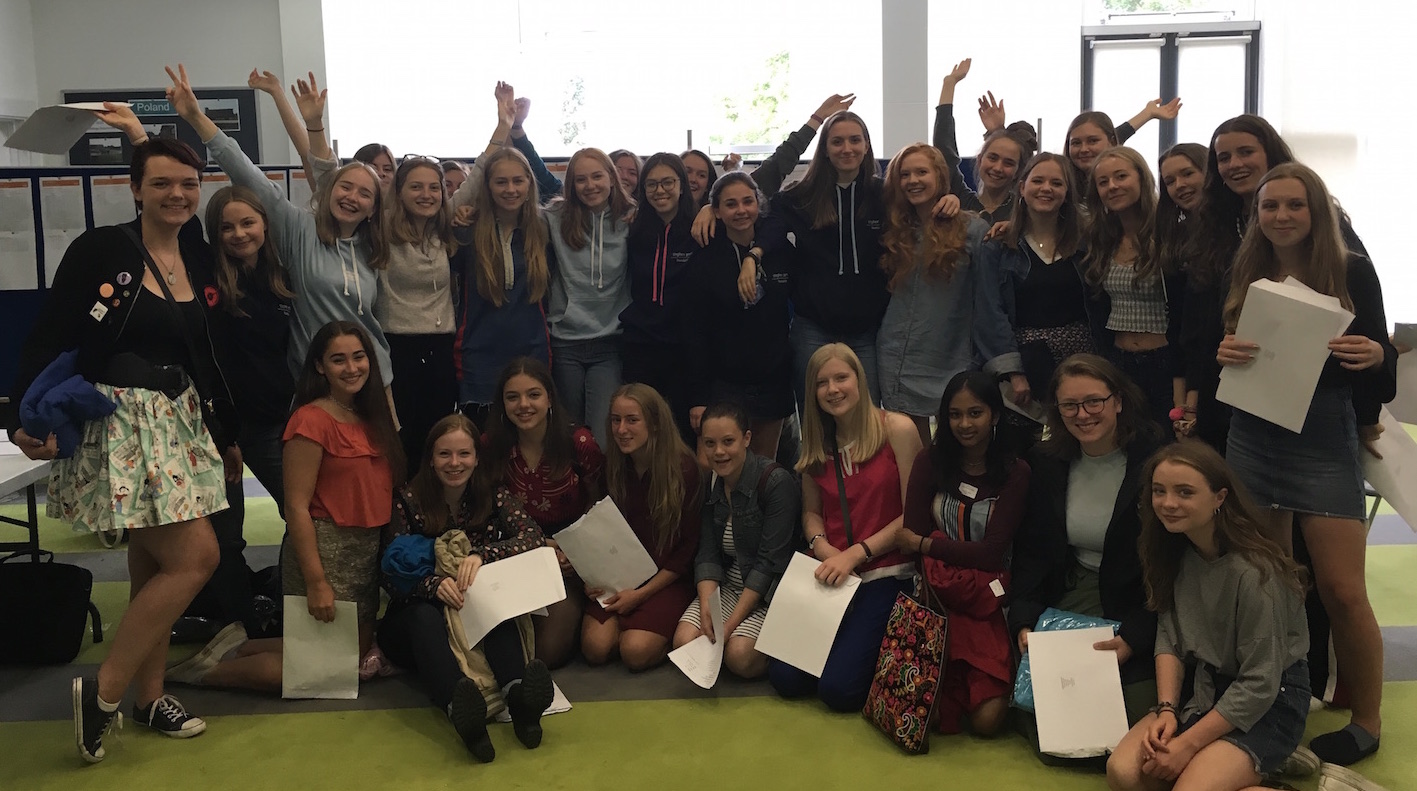 Parents and pupils may have opened the newspapers and looked for us in the league tables and wondered where we were? I believe this is the wrong question to be asking, however. We shouldn't be concerned with whether we made the top 10, 20 or 30 in the country, but asking why we have chosen not to be included in a process which would have been a good marketing opportunity for us. (I should note that newspapers will sometimes publish results that they find from websites, but we do not actively put ourselves forward for the league tables). It is very clear to me that we have a duty, arguably a moral purpose, to do everything in our power to help our students achieve all that they can, but my experience is that schools which focus on the institutional targets that league tables highlight, rather than the individual at the centre of decisions, can become very different places indeed. Although some of the educational news stories at the end of the summer were shocking, they are also very much a product of a system which has narrowed education to exam results and little more.
This last point links back to ensuring that our students feel comfortable in who they are, and are ready to learn in lessons. Reducing an overload of pressure regarding testing and exams is crucial, and I would like us all - teachers and parents - to be mindful of how we can help in this. Simple changes can have a profound effect. For example, when a test is being discussed, asking "What did you learn?" rather than "How did you do?" shifts the focus to seeing assessment as a learning opportunity rather than a judgement of fact.
All of this seems terribly serious - and in many ways education is a serious business - but underlying all of 'who we are' is a sense of joy and fun in the journey we are on. I hope this newsletter continues give a flavour of this, but also that we do give serious thought to having a great time here.
Warm wishes,
David Walker
Head of Senior School
Inspire Dialogue Foundation
Our Year 11 and 6th Form Religious Studies and Philosophy students shared a unique opportunity to explore new ways of thinking about the future of society at an Education for Human Solidarity event, run by the Inspire Dialogue Foundation ...
Year 10 trip to the Botanical Gardens
Students visit Cambridge Botanical Gardens to seek inspiration for their GCSE projects ...
Economics: Year 8 Enterprise Project
Year 8 students have been honing their entrepreneurial flair through a fun business skills game called 'Bag it' as part of their economics lessons ...
Year 9 Adventure Learning
Our trip to Grafham Water is the perfect way to collaborate, get to know each other and have fun at the beginning of the new school year ...
Year 11 IGCSE Drama Trip
Our Year 11 Drama students enjoyed a fabulous overnight stay in London designed to inspire their final pieces of performance work ...
Chariots of Fire run raises funds for Alzheimer's research
Across all our schools, developing a sense of social responsibility is integral to learning, and it is one of eight key skills that form the outer circle of curriculum wheel. Thinking of others and supporting charity are part of this and this term began with six Foundation staff raising money for Alzheimer's Research UK ...
STEM in Song
Charlotte Helliar, a student in Year 11 was one of nine finalists in the Stem in Song competition which challenged girls aged 11 to 16 to write song lyrics about science ...
Finnley's Warriors - Charity of the term
In the Senior School we are pleased to support Finnley's Warriors raising money for Children with Cancer UK as our charity of the term.
During a recent assembly, students learnt about Finnley, he is a 20 month old little boy and at 15 months old was diagnosed with Anaplastic Large Cell Lymphoma. Over the term our charity committee is planning lots of events to get both staff and students involved.
If you would like to make a donation, please visit their JustGiving page.
Asha selected to play for England
Congratulations to Asha B, who has been selected to play for the Under 15's England Korfball Squad. Fantastic news and an achievement to be proud of!
Equestrian success
Further sporting congratulations go to Anna, who has competed in the National Schools Equestrian Association Elementary Dressage Competition ...
Alumni news: Inspiring Biotech careers
Watch Katie Garrett's (left SPF 2012) inspiring film about careers in the Biotech industry ...
Upcoming events
Discover our new build
Families currently in our Senior School and 6th Form are invited to join us for a tour of our new build.
When: 13 or 18 October, 16.00-18.00 at the Senior School