To start the new academic year, over 200 students, parents and alumni came to a fascinating evening on Thurs 17th October, focussing on anyone wanting a career in business, science or fashion/design!
Sir Gregory opened the evening with the 'antibody revolution'. He talked about the fact that prior to his research and development of the now market-leading antibody drug 'Humira' which he developed, there was no market for antibody drugs. There is now a £40m market. He showed how difficult it was to get investment for his research before he was able to prove success, and this was a common theme across all the speakers. It was innovation, entrepreneurship and belief in his research that ultimately led to success.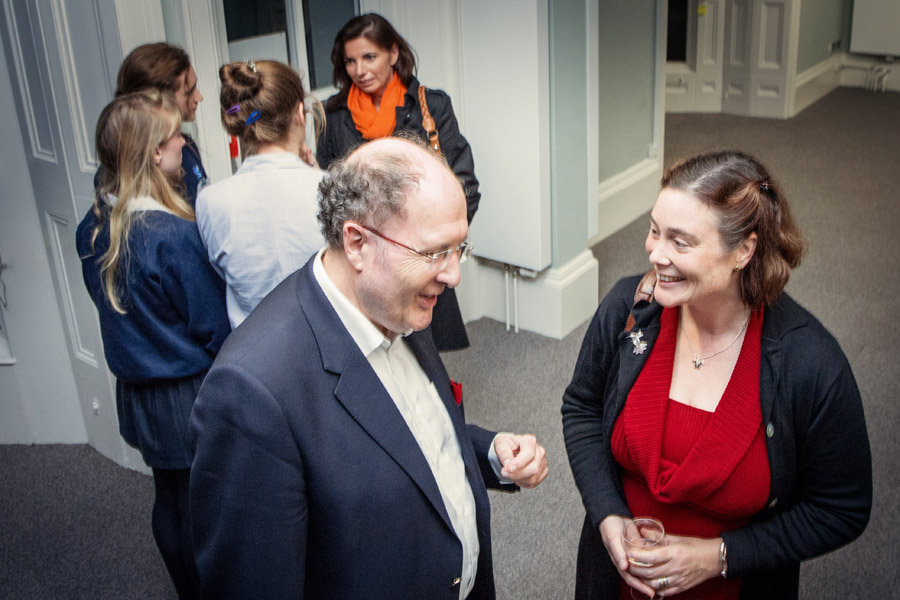 Sarah spoke enthusiastically about the different directions available with in her industry, including Patent Attorney, IP Lawyer and Copywright - all of which take hugely different training routes. Every industry needs these areas, so you can still work in the creative industries and be a Patent Attorney. She noted how the school gave her much of her inspiration for her direction during her time here in the 1990's. What is your USP?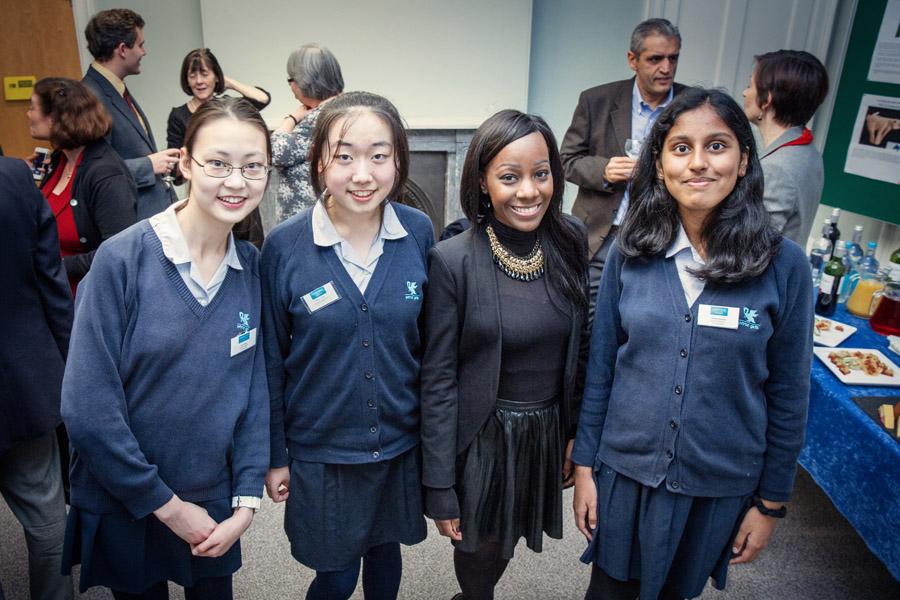 Harren talked about the journey pharmaceutical companies take when making a medicines for cancer. Increasingly, the importance of strategic partnerships with other organisations is key in order to get funding required to take developments forward. The pinnacle of this came for Astex just last week with the sale for $886 million to Japanese company Osaka, demonstrating the power of international strategic relationships. Harren surprised the audience with his own inspiration - Jonny Rotten - saying how he thought he wanted to be a rock star at university, even taking a year out to try doing so. Luckily he returned to his degree and a career in science, but music is still a passion for him.
Samata gave a fantastic insight into her journey into fashion. Her degree in Economics, Finance and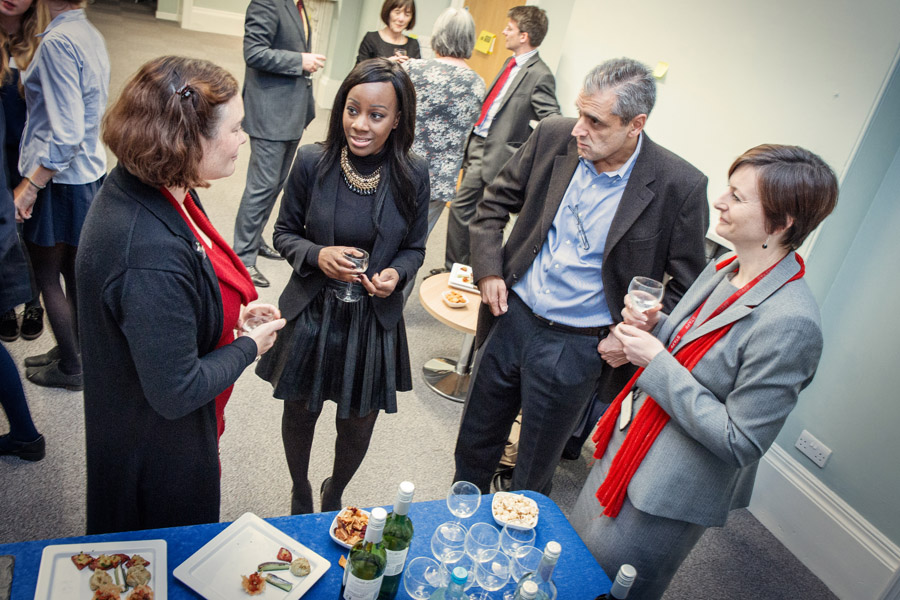 Management at Queen Mary and Westfield University, was something she bargained with her parents as a 'must-do' before entering the more precarious fashion scene. However, this very degree gave Samata the background knowledge in marketing and economics that was to prove extremely useful as she started out, and then in developing her own business. She has used her experience of working her way through different directions in fashion to produce a 'fashion industry bible' detailing all the different roles and how best to get into entry level. Samata signed copies of her book, which you can order on Amazon, or we have two copies at a reduced price of £17.99 at Senior School reception. First-come, first-served!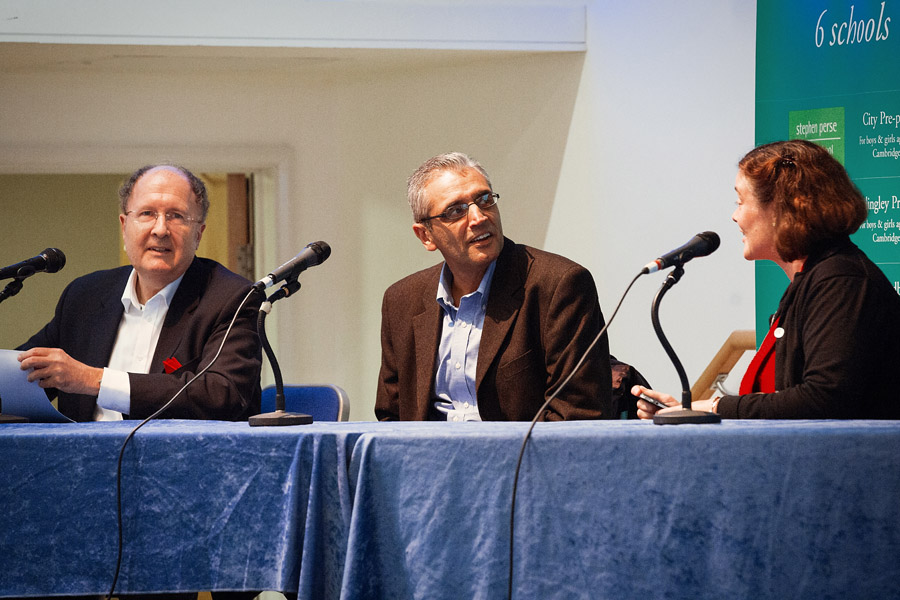 We were delighted that 9 of our Yr 10 students kindly volunteered to guide our guests and help at the event for the evening. You can see photos of our current students with two of our alumni speakers below - then and now SPF students!
Biographies of speakers:
Sir Gregory Winter (father of alumna) – Sir Gregory is a genetic engineer and best known for his research and inventions relations to therapeutic antibodies. His research career was based at the Medical Research Council's Laboratory of Molecular Biology in Cambridge, and he was until recently the Deputy Director. He has won numerous scientific awards, and founded three biotech companies: Cambridge Antibody Technology in 1989 (bought by AstraZeneca), Domantis in 2000 (bought by GSK) and Bicycle Therapeutics in 2009. He is now Master of Trinity College, Cambridge.
Dr Sarah Boxall (alumna) - Sarah Boxall is an alumna running her own business as a UK and European Patent Attorney, providing strategic advice on all aspects of Intellectual Property (IP) to clients. Sarah's technical areas of expertise are in chemistry, mechanics, medical apparatus and all aspects of biology. Sarah took a BSc (Hons) degree in Biochemistry and Pharmacology from the University of Southampton and a PhD in Neuropharmacology from University College London. She spent 4 years in private practice in London followed by 4 years in industry before returning to private practice in Cambridge. In September 2009, Sarah set up her own firm, Boxall Intellectual Property Management Ltd.
Dr Harren Jhoti (father of current students) – He co-founded Astex Therapeutics Limited in 1999, and became President and Director of Astex Pharmaceuticals in 2011. Dr Jhoti was awarded the Prous Institute-Overton and Meyer Award for New Technologies in Drug Discovery by the European Federation for Medicinal Chemistry in 2012 and was also named by the Royal Society of Chemistry as "Chemistry World Entrepreneur of the Year" for 2007. He has published widely including in leading journals such as Nature and Science, and has also been featured in TIME magazine after being named by the World Economic Forum a Technology Pioneer in 2005. Dr Jhoti previously served as a non-executive director of Iconic Inc. and currently serves on the board of the BIA, the UK BioIndustry Association. Before founding Astex Therapeutics in 1999, he was head of Structural Biology and Bioinformatics at GlaxoWellcome in the United Kingdom (1991-1999). Prior to Glaxo, Dr Jhoti was a post-doctural scientist at Oxford University. He has a B.Sc. (Hons) in Biochemistry and a Ph.D in Protein Crystallography from the University of London.
Samata (alumna) – Samata is a womenswear designer, public speaker, journalist and author who has her own fashion label, 'Samata'. Her clothing label has been worn by the likes of Dawn Angelique Richard and Jennifer Lopez. In 2007, Samata because the first British female to showcase during the New York Nolcha Fashion Week and has received a host of industry awards and nominations, including Cosmopolitan magazine's Future Fashion Star of 2008. In January 2011, Samata won Suzy Amis Cameron's international Red Carpet Green Dress competition to create a red carpet gown from sustainable materials. She is now the Global Campaign Director of Red Carpet Green Dress, working between Los Angeles, New York and London. In 2011, Samata was invited discuss her fashion industry journey and addressed the Prime Minister David Cameron, George Osborne, Peter Jones (entrepeneur), Doug Richard, Vince Cable, and an audience of MPs, entrepreneurs and media. Listed by 'Red Magazine' as 'one to watch' in the 'Top 20 women under the age of 30' in 2011, Samata is also a guest lecturer at the London College of Fashion and the Fashion Institute of Technology. Samata published her first book, 'The Fashion Designer's Resource Book' in February 2013. The book has been named a 'must-buy' by fashion magazine 'Instyle' and an essential read by ELLE USA.